New England small businesses are proving to have a critical impact on our economy, as shown in the infographic below. Connecticut alone has 720,404 employees employed by small businesses. 97.8% of Massachusetts' employers are small businesses and Rhode Island has an even higher rate of small businesses at 98%. Navigate is proud to support small business growth in the New England area as a Professional Employer Organization.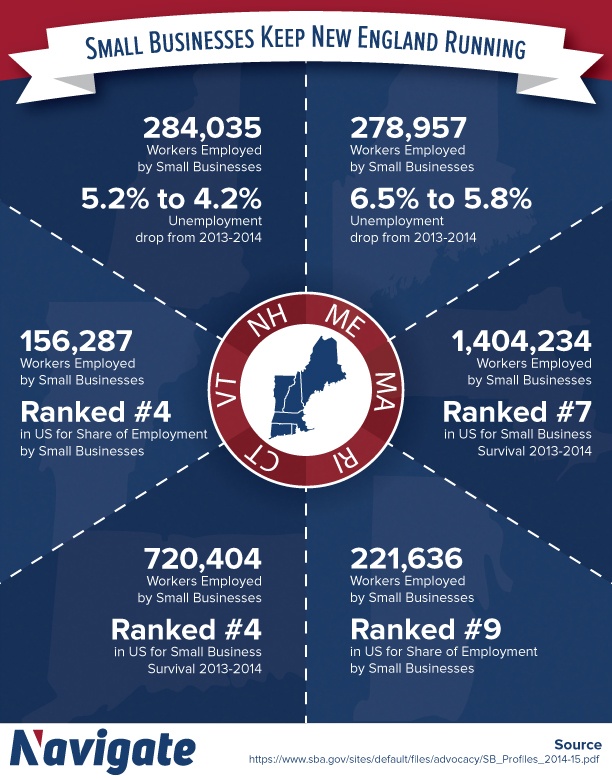 Click here to view the Small Businesses Keep New England Running infographic in another window and save to your computer.
At Navigate, we help small businesses in New England maneuver the complicated waters of employee management, while allowing them to focus on their core competencies. To learn more about how we can help your small business grow, please contact us for more information.
Tom DiSilva has been providing
professional human resource services
for over 30 years. As the CEO of Navigate PEO, he actively partners with organizations of all sizes in the Greater New England area and across the country to help their businesses grow. He has expertise in
HR and Labor Management
, offering guidance and support for key areas of business such as negotiations, operations management, employee coaching, and
employee benefits design
. He is an active member of The Society for Human Resource Management (SHRM), The National Association of Professional Employer Organizations (NAPEO), Professional Association of Co-Employers (PACE), and The American Payroll Association (APA). He is deeply committed to giving back to the community both personally and through
Navigate Cares
, which provides support for several nonprofit organizations such as the USO, The Boys & Girls Club, and the 3Point Foundation.